A multi-purpose arena to be proud of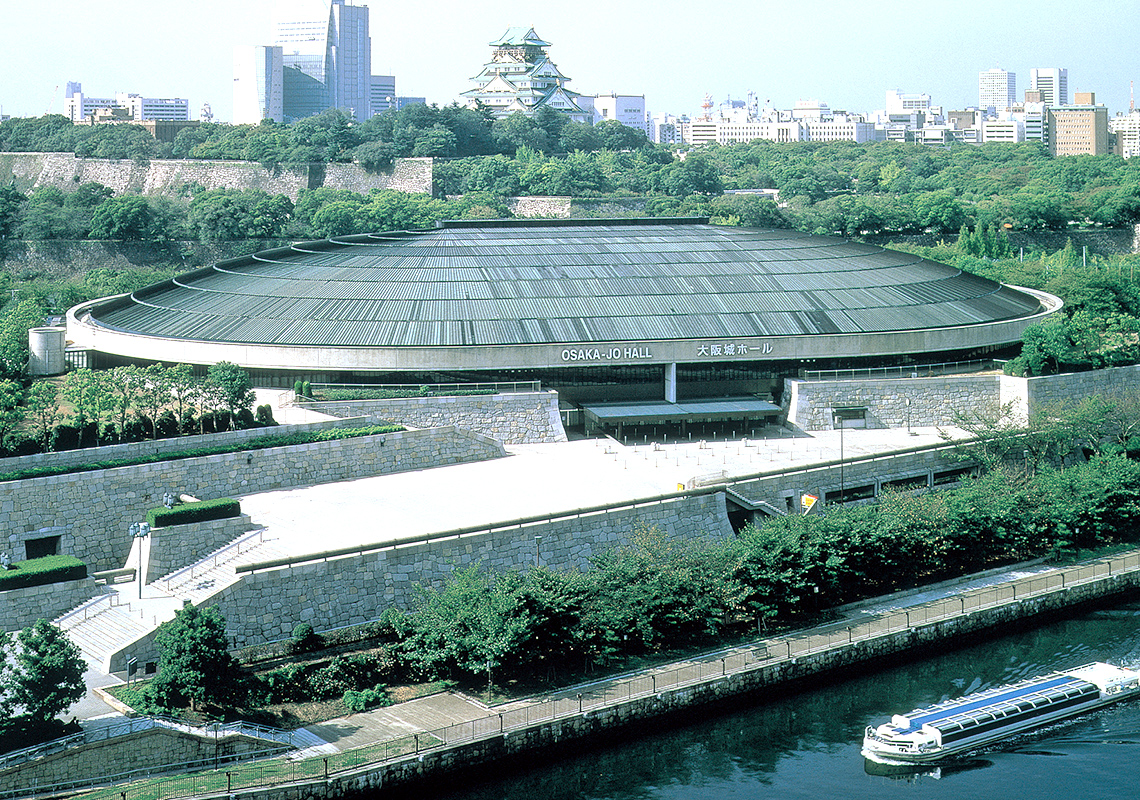 Built in 1983, the Osaka-Jo Hall is a multi-purpose arena able to hold as many as 16,000 people. A high-quality facility equipped with state-of-the-art sound and lighting systems, it has brought to Osaka a wide range of events such as concerts, theatrical performances, sports events, exhibitions, ceremonies, and trade shows from Japan and abroad. In this new century, Osaka-Jo Hall continues to play its roles as a first-class cultural center, conveying the message of Osaka to all of Japan and throughout the world.
Concerts
Uniting through the appreciation of music
Osaka-Jo Hall has hosted world-class events including concerts performed by popular Japanese artists and international stars. Some of the events enjoyed at the hall are the annual winter performance of Beethoven's Ninth Symphony with a 10,000 member chorus and "Disney on Ice" during the summer.
The hall has an annual usege rate of over 70%, and on this stage, the energy of entertainers and the excitement of the audience meet, creating countless unforgettable memories in the hearts of both entertainers and audience.
Events
Multi-purpose center for gathering and interacting
Exhibitions, trade fairs, fashion shows, international conferences…
Osaka-Jo Hall is called upon to provide a space fostering creativity, innovation, and new accomplishments. Conveying Osaka's spirit and energy to Japan and abroad, the hall functions as a forum for promoting international exchange in diverse fields of culture, sports, business, science, and technology.
Sports
A sports-setting to witness dramatic events
A venue for various sporting events such as: the International Indoor Track and Field Meet where many records have been broken; tennis tournaments and volleyball matches where top athletes compete; and Sumo bouts, professional boxing and wrestling matches that put spectators on the edges fo their seats. The arena's extensive 3,500 m2 space allows audience to witness right befor their eyes some of the most talented and famous athletes perform at their best.
Arena formations for all purposes
The arena, measuring an area of 3,500 m2, can be configured to a multitude of
layouts to suit different needs and settings such as concerts, ceremonies, sports events, and exhibitions,
providing varying stage effects to best enhance the show.
Layout A
This layout provides extra space, and is best for concerts and ceremonies.
Maximum capacity: 6,200
Arena seating (movable) 2,500
Stand seating (fixed) 3,700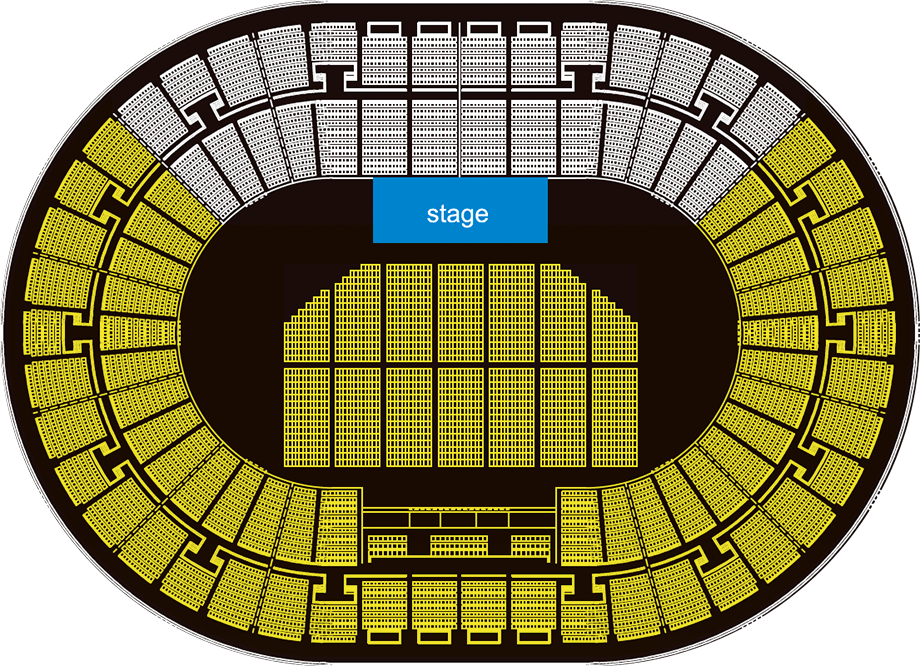 Layout B
Best for large-scale concerts and ceremonies.
Maximum capacity: 10,500
Arena seating (movable) 4,000
Stand seating (fixed) 6,500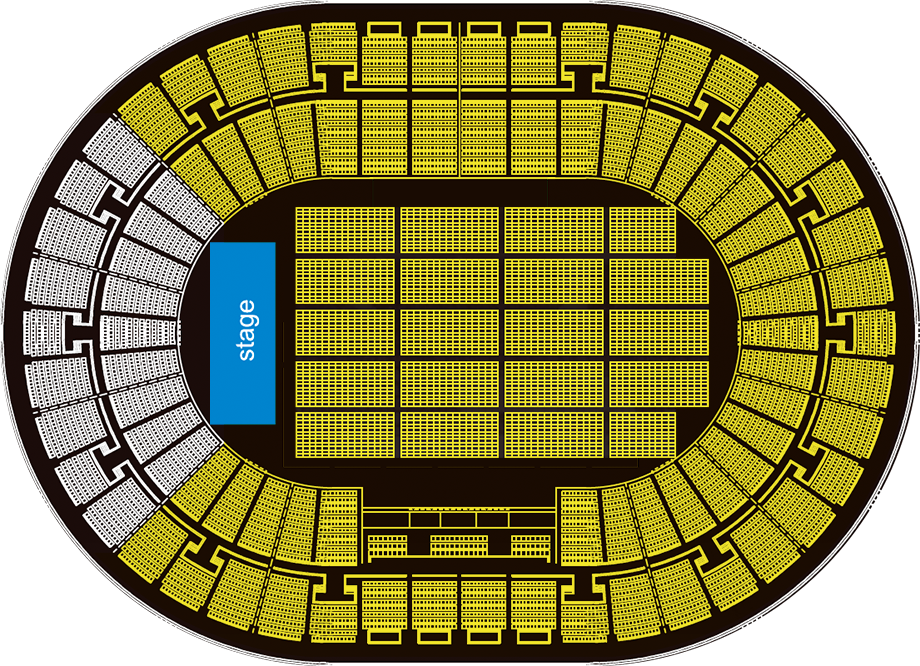 Layout C
This center-stage layout utilizes the hall to its fullest capacity and is best for sports events and concerts.
Maximum capacity: 16,000
Arena seating (movable) 4,500
Stand seating (fixed) 9,000
Standing room 2,500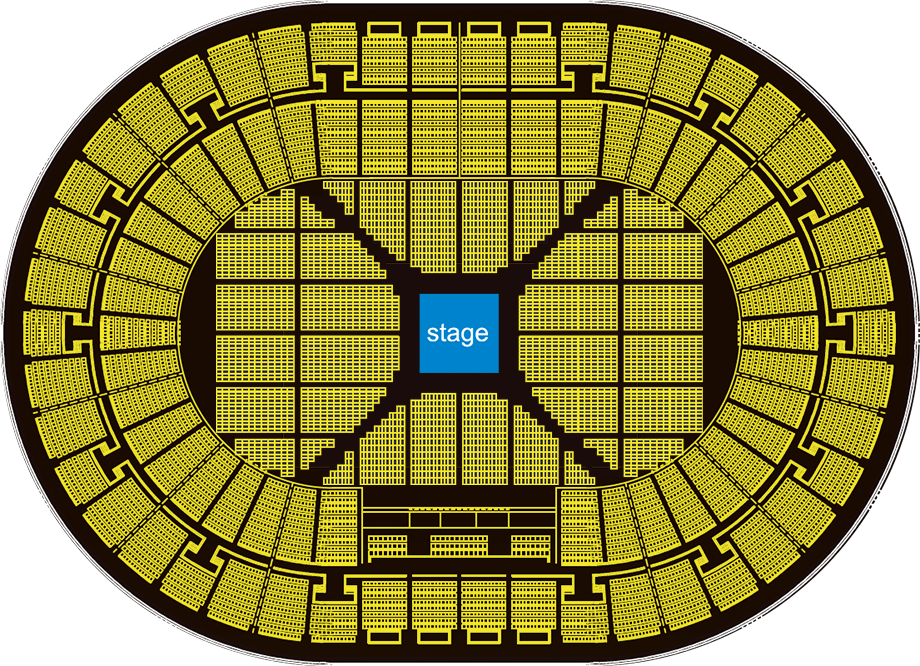 Building specifications 3 floors and a basement
← Scroll left/right →
Building area
19,351.22 m

2

Total floor area
36,173.80 m

2
Arena Seating capacity
← Scroll left/right →
Stand seating (fixed)
8,956
Arena seating (movable)
4,500 max
Width
83.4 m
Length
48.2 m
Ceiling
21 m
Area
3,500 m

2

Floor
Urethane resin finish (concrete base)
Anterooms
7 rooms either with an area of 14 m

2

(for 2 people) or 256 m

2

(for 50 people)
Traffic Access
Nearest station guide
5min.-walk from (JR Osaka Loop Line) Osakajokoen Station.
5min.-walk from Subway Nagahori-tsurumiryokuchi Line Osaka-Business-park station.
15min.-walk from (JR,Keihan,Subway Nagahori-tsurumiryokuchi Line) Kyobashi Station.
15min.-walk from (JR,Subway Chuo Line) Morinomiya Station.
To visitors from distant place

※ Times may vary from those given depending on the line, service or route used.